Tummy Tuck in Portland, OR
What is a tummy tuck?
Abdominoplasty or a tummy tuck removes excess fat and skin and restores weakened and separated muscles giving you a smooth and firm abdomen. It is important to keep in mind that this is not a weight loss procedure. If your weight fluctuates significantly post-surgery, your positive results may be diminished.

Why Tummy Tuck Becomes Necessary
Over time, the body increasingly slows the production of collagen and elastin. These two proteins are essential for maintaining healthy, elastic skin. Without sufficient amounts of collagen and elastin, the skin starts to sag and become loose.
Major weight loss or pregnancy can compound this unsightly concern. Often, major fluctuations in weight make it difficult, if not impossible, for the skin to "bounce back" to a smaller size and shape once any excess weight has been lost. In addition, pregnancy — especially multiple pregnancies — can greatly damage the abdominal muscles, possibly causing them to separate. Once this happens, it is impossible to restore muscle tone and achieve a flat abdomen, even if individuals exercise regularly and eat a nutritious, well-balanced diet. Thankfully, Dr. Bohley performs tummy tuck surgery to improve these aesthetic concerns, providing patients with a svelte abdominal contour.
Tummy Tuck
Extended Abdominoplasty & Breast Augmentation Implant: Full Wise Mastopexy  Sientra HP440cc Post OP: 2 months
Tummy Tuck
Procedure: Full Abdominoplasty with
Liposuction
of Hips Post OP: 7.5 months
Extended Abdominoplasty
Procedure: Extended Abdominoplasty Post OP: 13.5 months
Breast Lift & Tummy Tuck Patient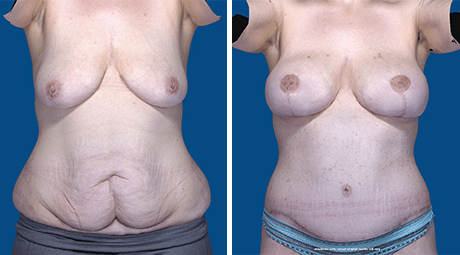 Breast Augmentation/Wise Lift with an Abdominoplasty The patient is 5 months postoperative. Implants: Natrell Gel SRX 340CC
Abdominoplasty Patient

This is a full abdominoplasty 4 months post op.
What Abdominoplasty Does Not Correct
Although abdominoplasty provides patients with a tighter, more toned midsection, it is not designed as a tool for substantial weight loss. In fact, many individuals choose to undergo tummy tuck with Dr. Bohley after they have lost a major amount of weight, whether they lost the excess weight following pregnancy, with the help of bariatric surgery, or by making healthier lifestyle choices.
It is important to note that the aesthetic effects of tummy tuck surgery can be reversed with significant weight gain. This is why Hood River plastic surgeon Dr. Bohley recommends that patients achieve a stable body weight they feel they can maintain after surgery, before having tummy tuck surgery. Also, for this reason, women are advised to wait until they are finished having children before undergoing the procedure.
Also, an abdominoplasty will not necessarily correct the look of stretch marks on the abdomen. However, if the stretch marks are located on the loose skin to be eliminated during the tummy tuck procedure (especially if they are present on the skin below the navel), they might be removed with the excess skin that is excised during surgery. Any remaining stretch marks present throughout the abdominal area may become less apparent once the residual skin has been pulled tight during abdominoplasty.
Tummy Tuck FAQs
What is a mini tummy tuck?
What is a corset tummy tuck?
What is an apron tummy tuck?
Does a tummy tuck tighten muscles?
Do you get a scar from a tummy tuck?
How are tummy tucks done?
How long do tummy tucks last?
How long do you wear a binder after surgery?
Who is a good candidate for tummy tuck?
Will a tummy tuck make my stomach flat?
What are the side effects of a tummy tuck?
Do men get tummy tuck?
Can you get pregnant after tummy tuck?
Am I a good candidate for tummy tuck?
You are a good candidate for a tummy tuck if you are in general good health and are at a stable weight. You must also be a non-smoker and have realistic goals from the surgery. If the appearance of your abdomen is bothering you and you have tried weight control and exercises to no success, a tummy tuck may just be the procedure for you.
What is the cost of a tummy tuck?
Tummy tuck costs differ for each patient. The cost of a tummy tuck will include the following: anesthesia fees, surgical facility costs, medical tests, post-surgery garments, prescriptions for medication, and surgeon's fees. It is essential to choose a board-certified plastic surgeon like Dr. Bohley when choosing to undergo plastic surgery. Choosing a qualified surgeon will greatly impact your results.
How to prepare for a tummy tuck procedure
Before undergoing your tummy tuck procedure, there are some steps you should take to prepare. Depending on the individual, you may be asked to undergo lab testing or a medical evaluation, adjust or begin medication, stop smoking, and avoid taking anti-inflammatory drugs. You will also want to make sure you have arranged someone to drive you to and from surgery, as well as stay with you for the first night if your tummy tuck is an outpatient procedure.
The Tummy Tuck Procedure
Tummy tuck surgery is typically performed on an outpatient basis and is always performed under general anesthesia. Once the anesthesia has been administered so the patient is completely comfortable throughout surgery, Dr. Bohley removes excess fat from the abdominal area using liposuction techniques, if necessary.
The doctor then makes an incision that runs lengthwise across the lower abdomen, extending from hipbone to hipbone. The incision required for a tummy tuck is substantial; however, Dr. Bohley, a well-known Portland plastic surgery expert, strategically positions it in the pubic region, where it can be easily concealed by the bikini or underwear line.
Dr. Bohley then excises the extra, loose skin. Next, he places permanent internal sutures in a crisscross pattern to repair the supporting musculature and other tissue structures and to hold them in place following the procedure.
Dr. Bohley pulls the residual skin-tight, re-draping it over the firmer, flatter abdominal profile, before closing the incision with external stitches that will ultimately dissolve on their own. Using a small secondary incision placed in the belly button, the plastic surgeon adjusts the position of the navel, so it is in line with the newly contoured abdomen.
Finally, he dresses the treatment area in bandages and an overlying compression garment that provides additional support and minimizes swelling, as the tissues in the treatment area heal. Patients must wear the compression garment for several weeks after abdominoplasty, as instructed by Dr. Bohley.
"Mini" Tummy Tuck
Certain individuals may be suitable candidates for a modified procedure, often referred to as "mini tummy tuck." Appropriate candidates for the modified approach generally have poor skin elasticity and muscle tone throughout the abdominal area, but their excess skin is restricted to the area below the navel.
With the mini tummy tuck, Dr. Bohley removes excess skin from the lower abdomen only, instead of focusing on repairing the underlying musculature. With this modified approach, the plastic surgeon can typically use a shorter incision. Also, mini tummy tuck surgery usually allows for a quicker recovery period than the full surgery. For optimal contouring throughout the abdominal area, liposuction can also be included in the modified tummy tuck approach.
Patient Testimonials
Dr. Bohley is one of the most caring doctors I have ever met. Dr. Bohley and his staff are very nice. They made me feel very comfortable. If I had any questions, they were there to answer them. I highly recommend Dr. Bohley. Thanks, Dr. Bohley and your staff for making me feel so comfortable and answering all my questions.-Facebook Review by Dena
The best experience I have ever had! And amazing work! The staff is so nice and makes you feel comfortable! I love my results! Highly recommend Dr. Bohley!-Facebook Review by Terryann
Dr. Bohley is everything mentioned above and more. He is also my plastic surgeon. Displayed only kindness and gentleness when I was in need if his masterful touch.-Facebook Review by Mary
Recovering From Tummy Tuck Surgery
Following the procedure, individuals should expect to take about two weeks off from their jobs or usual routines. During this time, they should rest as much as possible and avoid vigorous activity, including heavy lifting. That being said, postoperative patients should also take periodic walks around the house, as soon as they are able. This will encourage good blood circulation and minimize the chance of developing blood clots in the legs.
The abdominal area may feel tender, sore, or numb, and it may be bruised or swollen. However, these are normal symptoms that will improve over time. Some of the aesthetic advantages of a tummy tuck are visible immediately after the procedure, but it takes about 12 weeks for the final outcome to become realized; this is how long it takes for the tissues to heal completely and for any residual swelling to subside.
What is the recovery time period?
After your tummy tuck procedure, it may take a few weeks or months to be completely normal again. Most patients are advised that it takes about four months for the swelling to completely subside. For those who have stronger abdominal muscles, recovery may be faster. However, you must give your body the time to heal properly. Within a year, the scarring also decreases to a great extent. If you have any questions during your recovery period, please do not hesitate to contact us.

What will be the results of my tummy tuck?
You may not be able to see your final results post-surgery due to the swelling and the fact that you are unable to stand upright until internal healing is complete. It takes one or two weeks before you can stand straight and you will be able to notice your slimmer profile. Your tummy tuck procedure will result in a firmer and flatter abdomen, which is more proportionate to your body weight and type.

Find out More About Tummy Tuck
Abdominoplasty is a life-changing procedure that often improves both the patient's appearance and self-esteem. Dr. Bohley works meticulously to give each patient the aesthetic results he or she desires. To schedule a personal consultation with Dr. Bohley to find out more about the tummy tuck procedure, please call his office at (503) 253-3458 or visit his contact page.
If you are looking for a Tummy Tuck in Hood River, visit our practice today!